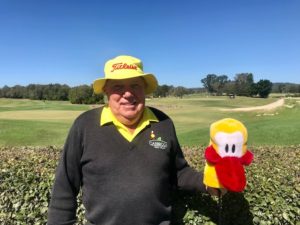 Carbrook Golf Club, along with the Australian golf community dedicated a member's day in August to the memory of Jarrod Lyle to help raise important funds for Challenge, who support kids living with cancer.
Carbrook dedicated Saturday 10th August as their "Doing it for Jarrod" day, and encouraged all members to dress up in yellow and raise much needed awareness and funds for Challenge. The club sold yellow ribbons for a gold coin donation along with numerous Leuk the Duck merchandise on the day to ensure everyone was in the yellow spirit, as this was Jarrod's favourite colour.
All of the members got behind this fantastic cause and our course was filled with yellow outfits and merchandise. It was great to see the members get behind and support the event and do their bit for Jarrod.
Overall the club raised $367.70 for Challenge, and most importantly raised a great deal of awareness for Challenge and the great things they are doing for kids with Cancer.
All proceeds from the #DoingItForJarrod will go to Challenge, supporting kids with cancer, to realise Jarrod Lyle's wish to help Challenge provide the little things that make all the difference.
Carbrook is appreciative of Challenge for allowing the club to play a role in raising funds and awareness for such an important cause, and look forward to supporting the event again next August.